Many of you know that we entered the halls of homeschool education earlier this Fall.  Even though our daughter is only four, we've been working our way through the Abeka curriculum; and, while it offers an excellent foundation in math and language arts, there are no age-appropriate history or geography workbooks.  Since I was a history major in college, I wasn't about to let this stop me, and I've tried to incorporate books about historical figures into our reading lessons.  But there was little continuity, and "A" quickly became bored.
This past week, we had the opportunity to try out SchoolhouseTeachers.com, the brainchild of The Homeschool Magazine.  And, I was excited to see that they had some great lesson plans for Classical History, Asia: People and History, Figures in History, Geography, and much more!  We thought it was wonderful that I could use the Classical History lessons to teach "A" stories about King David and Saul, while she simultaneously learned about the history of Israel's Divided Kingdom.  As a reward for listening to her lessons, "A" was thrilled with the activity sheets at the end.  Depending on the ages of your child, you can choose to watch videos they provide and delve into classic art that depict those time periods.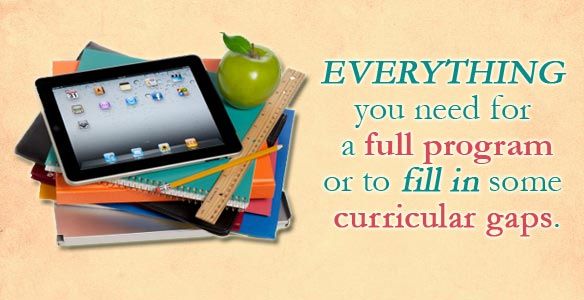 For those of you who don't seem to have enough hours in the day to accomplish all your tasks, you'll love that SchoolhouseTeachers.com does your lesson planning for you!  You'll receive expert advice and detailed lesson plans from twenty-seven different teachers, ranging from a CPA (who writes about Career Exploration) to a Ph.D (who oversees Reading Lessons).  And, here are just a few of the topics that they cover (for grades K-12): French, Guitar, Home Economics, Mock Trial, Worldviews, College Choice Guidance, and Film making.
If you lifted an eyebrow at virtual Guitar lessons, you're not alone – I had to see how they would run those lesson plans.  They actually have short video tutorials and the teacher offers to Skype with the students to see their technique, answer questions, and offer helpful suggestions.  Pretty neat, right?
Some additional benefits of the SchoolhouseTeachers.com membership include a Monthly Menu (with daily recipes), "This Day in History" section (with corresponding printable worksheets), Everyday Games, and a monthly Reading List.
For a limited time, SchoolhouseTeachers.com is offering a 1-year membership for only $49 (regular price – $64.26).  In addition to the membership, you will receive the 2013 Annual Print Book and  your choice of the Winter Cranberry or Chocolate Mint tote bag, absolutely free.  You will also receive bonus gifts directly from Zeezok, Audio Memory, Live Online Math, and Knowledge Quest! (Physical products will be sent to US customers only.) Click here to see the bonus gifts described.
Join their sister site, Econobusters.com and become a Molly member for 1 year for only $20 more!  Feel free to share both of these wonderful memberships with a friend for only $35.
(This price is US only. Canadian subscribers can purchase and contact Customer Service at 1.888.718.4663 (HOME) to pay additional $25 shipping fee. Allow 6-8 weeks for delivery of physical products. If you currently have a membership to SchoolhouseTeachers.com, you may purchase this special and add a year to your current membership. Please contact CustomerService@TheHomeschoolMagazine.com  after your purchase so that we can extend your membership date or cancel your monthly payments. These free gifts are with available only with the purchase of this special.)

{Disclosure: In accordance with FTC regulations, I'm disclosing that I received a year subscription to SchoolhouseTeachers.com to facilitate this review.}
{ Comments on this entry are closed }